Captains' Bio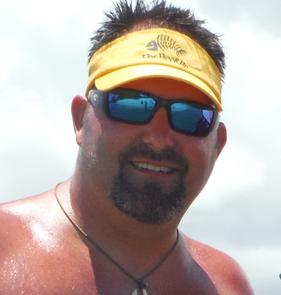 Allow me to introduce myself...my name is Capt. Steve Beare. I'm a USCG Licensed Captain and the Owner of On Island Time Charters, Inc. I'm a native Floridian born and raised in South Florida and along the Treasure Coast. Growing up in South Florida, I was afforded opportunities at a very young age to fish both the inshore and offshore waters of the East Coast of Florida, the Florida Keys, the Dry Tortuga's and the Bahamas. 
During my fishing career, I've acted in a number of capacities from recreational, tournament & commercial fishing applications. During this time I obtained my USCG Captain License. Over these years of fishing, I found that I enjoyed taking family and friends out to catch fish just as much as catching fish myself so I decided to start my own charter business; On Island Time Charters.  While I had provided many "guided trips" with others for years on my boat, I realized that guiding professionally was a much bigger task so I looked over my 32 years on the water.  As I sat back and reflected on all of my experiences, both good and bad, I concluded that the fishing adventure itself wasn't graded solely on the amount of fish we caught but more so on the overall environment that the Captain provided.  Good or bad though, each experience presented me with a unique look at different techniques, styles of fishing and most importantly guiding etiquette.  So I decided to take the characteristics that I liked most in each of my experiences and incorporated them into my own style of Professional Guiding. 
Background & Associations
USCG Licensed & Insured Boat Captain
PADI - Advanced Open Water Diver
Coastal Conservation Association (CCA) of Florida Life Member
CCA Florida Treasure Coast Chapter Board Member
Bonefish & Tarpon Trust
International Game Fish Association (IGFA)
Florida Guide Association (FGA) 
National Association of Charter Boat Operators (NACO)
Southern Kingfish Association
My passion is fishing. My life is fishing.  I love to fish, catch fish and do anything on the water.  Fishing is fun, so I push to provide a fun-filled fishing environment, joking along the way.  I believe that fun filled environments deter stress therefore allowing confidence to thrive, so anglers of all levels can tackle any fishing situation without fear of anyone berating them for making a mistake. Although I have a jocular personality and a passion for fishing that runs deep, my style of guiding is somewhat laid back. Patiently talking you through each cast, hook up and landing along the way.  Whether you're a novice angler or an experienced "old salt", my goal is to make sure your fishing charter with me is an enjoyable and memorable experience!
Capt. Steve Beare